Not just a pun on autumn arriving, but a comment on writing this in early (edit: "early-mid") July!
Google Maps had an amusing option on 1 April. Here's our neighbourhood in Pac Man…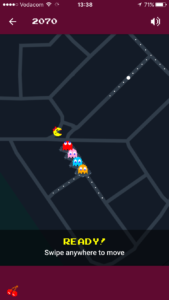 The school holidays kicked off in early April with Dana and Riley hosting a sleepover for their Dutch friends, Jente and Melle. Dana wrote a special bedtime story for the event (after hearing that they didn't want a scary story)…
Dana and Riley spent the first week at a holiday care, and discovered a new park in Pinelands (Protea Close). So we had to go back on the weekend obviously.
The excitement never ends, and the next day we headed off to collect their new bookshelves, which then occupied them for the rest of the Sunday afternoon.
The kids are useful sometimes, and we've abused their present-wrapping skills recently. First up was Ouma's birthday on the 14th – celebrated with lunch at Cattle Baron, where most of us stayed above the table.  The flipped-over car was on the N2 after the lunch (not our car, despite the drinks in the photos before).
The busy social weekend continued, with Steve and Anthea visiting Cape Town for the first time in ages. The weather played ball and we had a great picnic at Warwick, before returning home for a civilised dinner at the table for a change.
The 16th was Easter Sunday (and coincidentally my birthday), and the Easter Bunny was generous on both counts.
Back to school after the Easter weekend, and we'd forgotten to cover Riley's file as instructed in the last week of the first term. And then clearly we overcompensated and were the only ones to follow instructions and cover the file properly.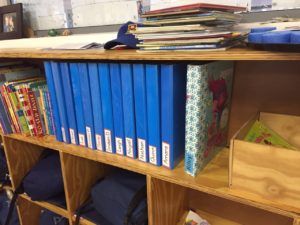 The 21st was Book Day at school. Dana went as Harry Potter, and Riley was Ottoline (from the Chris Riddell books). Note the mis-matched shoes, and the dog with blonde wig is actually Mr Munroe (see sketch).
Random things continue to happen after school. Here are the kids playing in the carport near the bins, when there are hundreds of better places around the garden and house.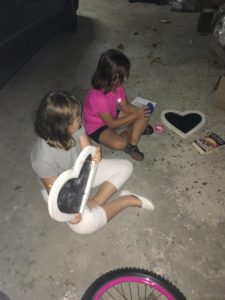 The long weekend saw a number of trips to work – fortunately not into the office, but to the sportsfield's parking area to get some bike riding (and sunset photography) in.
And finally we wrapped up April with a wallet-emptying trip to the movies to see The Boss Baby. The kids insist on wearing the 3D glasses even during the 2D previews (and don't seem to get tired of my lame joke of how everything around them now looks in 3D).