Here is a first guest post from Dana, sharing her hand-written holiday diary…
1st of Oct 2017
1st night at the Vindoux guest farm tree house and I am so excited!!!
We are watching 'Tangled' on Mommy's laptop. I got a new note book that I am writing in right now, and a new pen that I am writing with. Goodnight, travel Diary

It's probably midnight by now but I can't fall asleep again cause there is an extremely annoying cricket outside zzz our bedroom! I hope I can fall asleep soon!

2nd of Oct 2017
So far our holiday has been great. We rode our bikes and I sketched a few things along the way. When we got back from our bike-ride I found a frog in the pool and Daddy saved it from Drowning


We cycled to the zebras and then we decided to take a short-cut to the look-out point. We sketched the zebras and then came home to have lunch.

Back of page 1…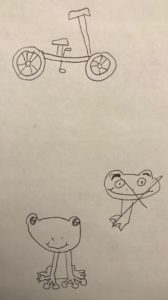 3rd of Oct 2017
We went to the crystal cave (which is really a shop) and bought a lot of things. After that we went to a chocolate shop and the chocolate was so sweet!!! Next we went for lunch at a restaurant called: Paddagang.

There is a HUGE storm here and the wind is very strong. But on the Bright side; it did kill the cricket!!!!!
Back of page 2…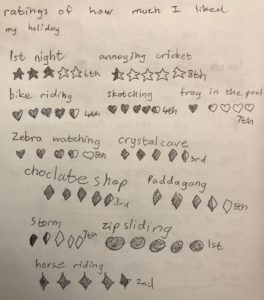 5th of Oct 2017
We went to Ceres and me and Daddy went zip sliding. The scariest zip slides were: The Fastest, the highest, the longest + the last one. We even had a little harness for our water bottle!

The helmets were made by 'Black Dimond" (Mommy's head lamp maker) The harnesses were made by 'Petzl' (My head lamp maker)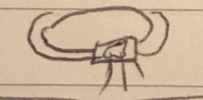 6th of Oct 2017
We woke up early and went horse riding. The horse me and Riley rode was big. The horses were very hungry and were very greedy when we fed them apples and carrots. The horse we rode had a

(Name: Freddie, Girl friend's Name: Twinkles)