After the holiday ended, and the last post was filed (in record-breaking time, i.e. only a couple of weeks after the real reporting date), it looked like we were going to pack this site back into mothballs until the next trip.
But after a number of requests (zero is a number) for more exciting stories about our mundane lives, I thought I might give a monthly update a bash. A new year is always a good time to make some bold resolutions that get dropped a couple of weeks later, so I'm off to a flying start with this one (he says as he starts writing the January report on 6 March).
Seeing we had missed out on our traditional December-drinking-beer-around-the-pool festivities, I wasted no time in working my way through the rest of the Lion Lager case that didn't make it to the overseas family. This was one of the rare moments in January that the pool wasn't giving me the greenish, murky eyeballs, so it's good to get that blue colour into the public record.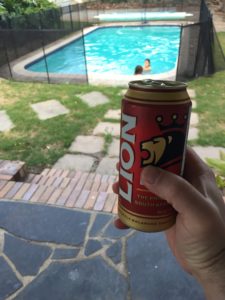 The kids had an extra week before their first day back at school, but Riley took some time getting used to the post-holiday routine (passed out on the bed on the evening of the 2nd day back).
When we started planning the house move back in early 2015, there was a jungle gym on the list. For a variety of reasons (lack of time, money and energy) we never go around to it. Finally, late last year, we managed to co-craft a design with the kids, mapped out the opti0ns (in baby powder on the planned spot!), and find a supplier. We paid our deposit, went off on holiday and, shortly after returning to work, received the SMS that they wanted to start that day (I had thought there would be some further discussion about timing). In the end we're all very happy with the end result, and if the kids lose interest I'm taking the platform as a beer-drinking deck! The two slides followed a few days later, and the one into the pool is a hit (I cannot confirm or deny that I have been down it a few times already).
If anyone is looking for a good jungle gym designer and builder in the Western Cape, I would definitely recommend Cape Jungle Kids.
The return to school means the return to the birthday party circuit (yay!). At Jayden's party at Keurboom Park we got to meet his cross-beagle-basset – a bagel apparently!
We missed the traditional New Year's Eve braai at Esca's place, but fortunately managed to get an invitation to celebrate her birthday and take in the great view (unfortunately the Waterfront declined to repeat their NYE fireworks show for us that night).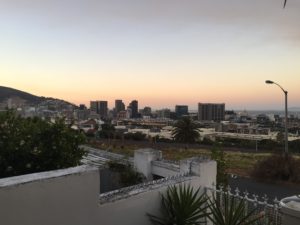 And the final highlight from January… After watching the slow progress of pavements being dug up, piping being laid right up to our phone pole, and then nothing happening for month, and then our neighbourhood getting stuck on the "Future Fibre" status for ages, our map finally turned the magical purple colour and we could start harrassing our internet service provider to get us hooked up. But unfortunately that still takes some time and happens next month.