In keeping with the short month, a short update was the plan (real reason – this is being written in early April, so I need to stop falling further behind).
There is no better way to end a long, hard week at the end of a long, hard first month at work, than to sleep on a thin mattress in a flimsy tent. The annual Cannons Creek Primary School Camp Out is generally dreaded from my side, but ends up being a decent evening's entertainment, and the kids have a load of fun. Fortunately the equipment was still in one piece after it was dumped into the garage after last year's event, and the muscle memory soon had the tent up and full of kids and stuff. Striking the camp in the morning is even faster (from the first sign of our kids waking, to me sitting at home with coffee is generally well under an hour).
The next weekend Esca took us all to The Great Moscow Circus which was wrapping up its run in Cape Town. Very entertaining, and so I didn't manage to get any pictures during the show. So here are some pre-show pictures to fill some space.
Over the holidays Brian made us some excellent biltong, and it inspired me to get something going when we got home. The first batch was OK but not quite up to his standards, but hopefully will improve as I work things out.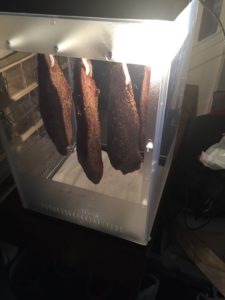 I've been following The Food Lab on SeriousEats.com for a while, and have been accumulating a lot of recipe bookmarks, but making very few of them. One of my goals in 2017 was to clear at least 2 of these bookmarks a month, but there was a zero score for January. I tried to make up for it in February by firing off 3 recipes (the 3-ingredient Stovetop Mac & Cheese, the Homemade Bagels, and The Best Slow-cooked Tomato Sauce). They all came out great, but I only thought to take a picture of one of them (and only after I'd already started eating!).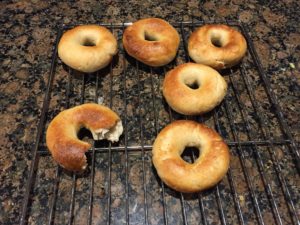 After over a year of waiting we finally got our fibre connection installed. Speedtest is regularly abused for no reason other than to see that needle bury itself on the far right (and not splutter around on the left like it used to).
In other dull (but captured for archival purposes) news, my car crossed the 50 000 km mark. And embarrassingly after nearly 7.5 years of ownership (should help the resale value though!).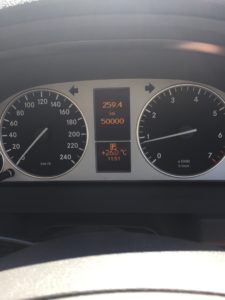 Dana has been going through a Harry Potter phase and had decided (months in advance) that her party would have a Harry Potter theme. Philna went costume hunting online, and picked up these winners (and Riley insisted on wearing hers to the class picnic which probably dragged us further down in the judgmental eyes of the other parents).
We hadn't seen a movie for a while, and it had been a bit too busy since the holidays to catch Sing, so we headed off to Bayside Mall to see it before it went off circuit. We hadn't been there in years (possibly 2004 was our last visit) and it looked a bit different from the outside, but largely unchanged inside. On the way there was an attempt to catch the sunset…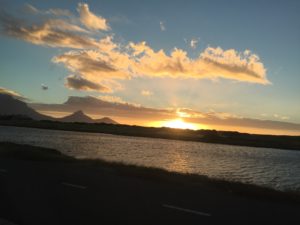 Dana's Harry Potter birthday party theme had some additional costume needs, so I finally made it to Theatreland near Pinelands (the ex-Sue Farmer's) after many years of wanting to have a look (but having no need to hire a costume). Spotted some interesting masks on the way out, and now am trying to think of a reason to rent the Mr T one!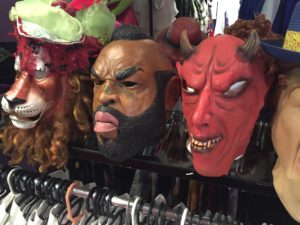 Dana's 8th birthday party was on the 25th, and everyone seemed to have fun. The Harry Potter theme was more loosely applied in the end, but I did start out in the surprise Hagrid costume (complete with rough wool cloak – was happy to ditch that itchiness and heat after 20 minutes of welcoming guests). Our kids seemed to appreciate the effort, although I'm not sure the hiring costs were worth it in the end.
On Dana's actual birthday we went off to Col'Cacchio in Cavendish, where I learnt 2 things. One – apparently I've been pronouncing it wrong all these years (and I also questioned why a South African restaurant would want to draw attention to the "kaa-k" sound). Two – Dana only likes going there because it gets her easy access to Exclusive Books and the excuse to con us into buying her books.
The next day was the Cannons Creek Fun Run. Riley was excited to do her first one, but Dana bailed at the last minute. It was a warmish evening so the 2km trot left me a little sweaty (possibly also related to horrific lack of fitness, but I'll stick with the weather excuse).
And just to demonstrate Riley isn't one-dimensional, here she is practicing recorder with Dana accompanying on piano (I suspect they were playing a complicated duet off two completely different sheets), and here's her scooter licence from school.
Apparently Zoe has forgotten she turned 14 this month and still goes mad in the garden like a puppy. Fortunately she seems to dig mostly under our bushes, although it also means that we're surprised by the massive holes when we happen to peer underneath once in a while.