Despite my best efforts to write this at the end of March, we've slipped into mid-May somehow [oops, more like mid-June now]. So without further delay, on to March's entry.
Philna and I managed to carve out a date night to go see T2: Trainspotting, and catch a quick dinner somewhere at the Waterfront. In the end we had a lucky break and managed to grab an empty table at the Harbour House branch near Quay Four. Here's me pondering where the last 20 years have gone since seeing the first movie…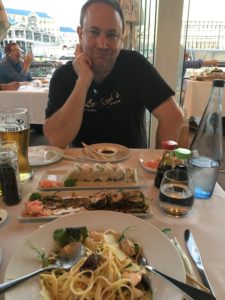 The mystery of my rapidly-emptying shaving gel can has finally been solved…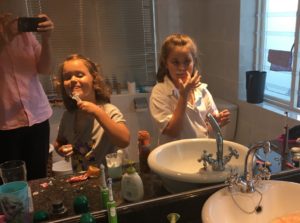 Riley lost another tooth, which evened out the gap on the other side and makes her look like Snowball the rabbit from Secret Life of Pets.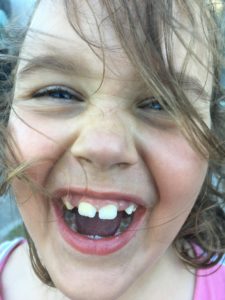 And here's a scary preview of things to come…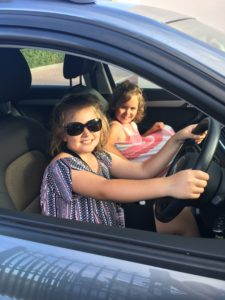 Our aging PC needed replacing, and it has been more than 10 years since we bought the last one. We tried to future-proof it a bit (lots of drive space, etc.) but didn't expect the size to dwarf the already sizeable older one…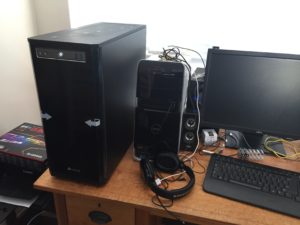 As seems to be typical with us, once you've bought one pricey gadget, another one seems to follow soon after. In this case I somehow justified the need for a drone / flying camera, a DJI Mavic Pro to be specific (maybe with our limited number of friends, it's the best way to get a family photo!). Still learning all the controls, but even the kids managed to give it a go with minimal training.
The drone flying session at Julianaveld in Pinelands only lasted about 30 minutes before both kids decided they were thirsty and wanted to go. I decided we couldn't go straight home so soon, so after a detour to a shop for drinks we headed to Rhodes Memorial where they played a long game of hide-and-seek before going home via Cavendish (pizza takeaways and the usual Exclusive Books shopping excuse). The swimming started a bit late in the evening, but it was a good excuse to test the new portable lights (apparently one was enough – I didn't need to buy the second set).
We use Philna's parents' place as a parcel delivery depot, and things got a little out of hand recently with Riley's approaching birthday and a general increase in online shopping options in SA…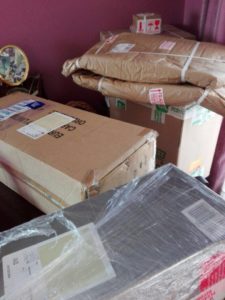 Riley and her best friend Melle get up to a diverse range of activities at aftercare. The chess is a frantic affair where the goal seems to be to sacrifice pieces as quickly as possible (the rules were being followed surprisingly well though). Then it was off to the monkeybars where Riley's job seems to be to carry Melle back to the start each time.
Riley's birthday party was on the public holiday, and was a scorching 35 degrees. The pool was full of kids (and a few of the parents), and it took a while to get everyone out to cut the cake near the end of the party.
Riley's actual birthday was the next day, and in all the chaos of the previous day's party we nearly forgot that we were supposed to send cupcakes for her class. Fortunately Philna managed to grab some from Howard Centre and dropped them off before the class party in the morning. We then snuck out of work early to go up to Rhodes Memorial Restaurant for a late lunch. After numerous attempts to capture a normal group photo we had to settle for the one below.
On the Friday, the kids had their Sports Day (Riley is 2nd from right towering over her classmates). Tannie Elrien had dropped into town for a short holiday, and showed off her top face-painting skills.
On Saturday morning there was another school function – Things That Go. This is where the pre-school kids get sponsored per lap around the school driveway, and then do as many as they can within the set time (up to a maximum of 20). The kids have a lot of fun, but I won't be sad that this was our last one. Here are some action shots, and Riley and Melle comparing scoresheets.