There isn't much point to this post, other than drawing a line under the holiday (unlike the last overseas trip where I left the blog dangling for 2-and-a-half years – not that anyone noticed or cared!).
The flight passed reasonably quickly, with the late start meaning that everything was delayed. The lights only went out at 1:00 UK time, with about 8 hours flying time left. The kids managed to get some sleep it seemed, although they're also starting to struggle with folding themselves into the awkwardly-shaped seats.
The tailwind lasted most of the flight and we landed close to the original scheduled time. Cape Town Airport was busier than I expected on the international side, with 3 flights all landing at a similar time (random picture on the way to immigration – not really making a point about the crowds!).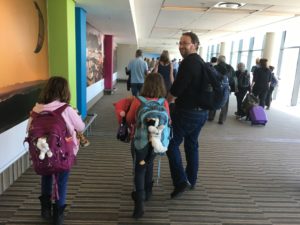 The immigration queues were long, but it moved quickly. Our luggage also wasn't too slow and we marched with purpose through the Customs Green channel, liking the fact that all 3 of the open desks was occupied with someone. Not that we were bringing anything in that we had to declare, but we could do without the unnecessary delay. I marvelled at the lawfulness of the Asian gent who I'd spotted hovering for a while at the Red vs Green decision fork, and then loitering in the Green channel waiting to talk to one of the occupied agents. I felt like going up to him and telling him to just keep walking through to the exit, but in the end decided not to get involved.
We hit the arrivals hall to discover that each one of the passengers on the other 2 flights was being greeted by about 6 to 8 family members. By luck I spotted our shuttle driver through the masses, and we were soon fighting our way through running children, slow old people, and various other aimless people standing between us and home.
Eventually we reached the shuttle and were on our way home, looking out for the usual welcoming sight of Table Mountain from the N2.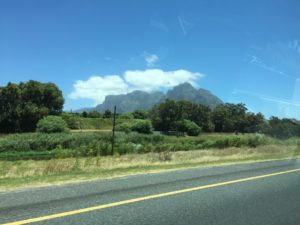 We reached home between 12:30 and 13:00, unloaded the mountain of luggage, and settled back into the dull routine of unpacking, laundry, grocery shopping, etc.