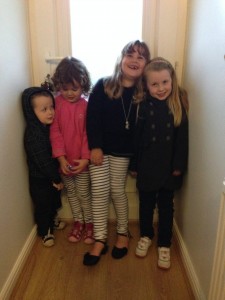 Still plugging away at the holiday summary – now 3 June.
After our first multi-country holiday in 2005, Philna and I swore we would reduce the number of stops, make sure we stayed at a place for at least 4 nights, and not pack our bags to the maximum.  For the first time since then we've gone back to the old bad ways, but to be fair it was the result of trying to squeeze in visiting as many family members as possible, so not really negotiable.
After only 2 nights in Doncaster we unfortunately had to say farewell to another large part of the family, pack up our multiple suitcases and head off to another hotel a couple of hours away.  Philna had to skip breakfast to have the time to merge all our luggage back into the 5 bags, and I did my bit by getting the kids out of the way and down to the breakfast table.  A large chunk of the previous night's party was there, and there were some sad farewells especially to Graham and his boys.  We hope another 11 years don't pass before we see them again, but given the way our future holidays seem to be mapping themselves out already, Australia keeps being pushed further and further into the future.
It was also farewell to Adele and my parents, as Philna and I were heading off (with the kids!) to Haverhill to visit Brian and Nadine for a couple of days.  The day was a bit damp, but we made good time with only a single lane closure along the A1 after a minor accident.  We dropped Dana and Riley off to play with their cousins while Philna and I checked into the Days Inn, and shifted all the bags out of the car into the room.
The highlight of the day was some great curry at the Raj Mahal in Haverhill's High Street.  The kids were enjoying each other's company a little too much at their own table, and for the sake of the other patrons, we skipped dessert and cut the evening short.  They transferred their energy to a small grassy patch near the car park, and kept chasing each other for a good half-hour or so.